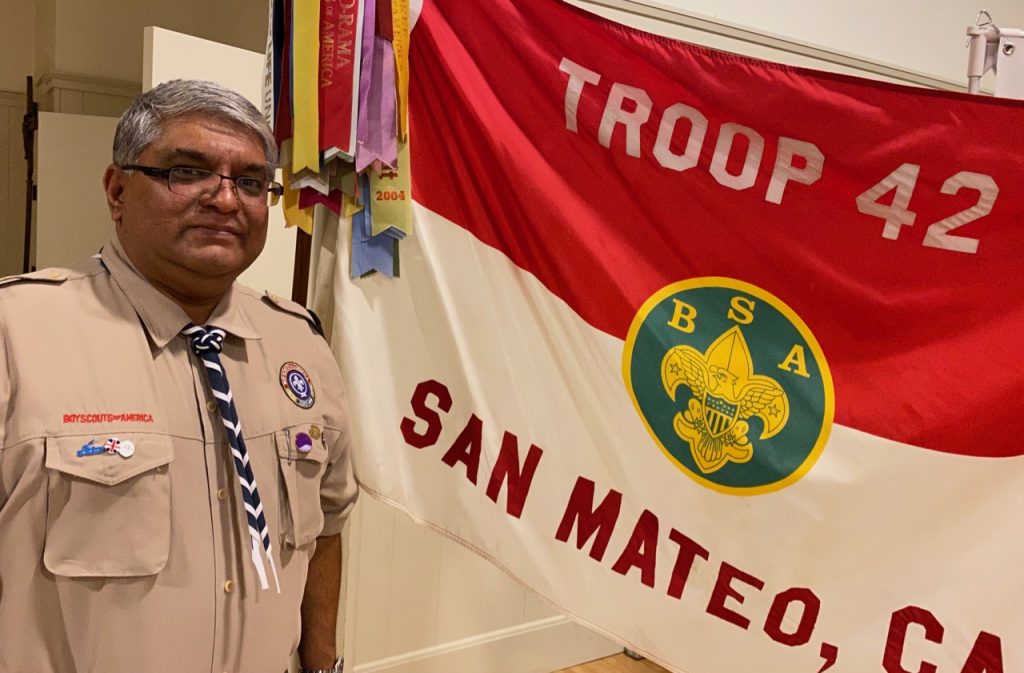 A Message from our Scoutmaster, Mr Sanjiv Swami:
Thank you so much for showing an interest in Troop 42 (4T2) and visiting our website.
Troop 4T2 is an active organization focused on providing a variety of opportunities and experiences to our scouts. We are fortunate to have over 60 years of continuous, active scouting with a strong youth run organization and experienced group of active adults that support operations behind the scenes. In fact, this website you're visiting was recently overhauled by one of our talented parents.
There are a range of worthwhile programs in which a youth can choose to participate, Scouting stands out in two important regards. The first is that Scouting is values-based and the second is that it is scout-lead. On the issue of values, Scouting is a program where who you are matters as much as what you do. As a troop we instill our scouts with the fundamental values of spirituality, duty to county and duty to self. While many organizations can help your youth learn skills, teamwork, and confidence, Scouting helps mature them in the basic principles that will serve as a strong foundation for every decision that they make for the rest of their life.
The second unique characteristic of Scouting is that it is 'scout-lead.' When your child joins our troop, they should look forward to working with others, living and abiding by the Scout Law, and learning to lead by example. As they get older their communication skills will grow, as will their management skills. We believe in letting the senior Scouts lead from the front; with just some gentle nudging from us parent leaders to help steer them on the right path. We have a remarkable percentage of scouts who attain the rank of Eagle Scout. Nationally the percentage is fairly low, but within Troop 4T2 the scouts form strong bonds and encourage each other to never give up, and strive to reach the rank of Eagle. This is an enormous accomplishment for our troop. It shows that with a little hard work and the guidance and leadership of ALL of the parents, then, YES, your scout can make Eagle.
Troop 4T2 has a great Scouting tradition and I am honored to be the current Scoutmaster, however there are a few things that you [as parents] have to do as well. First, since the running of a troop is a shared task between parents, interested adults, and myself, I need to know what you expect–your opinions, and desires for your Scout — in order for us to provide the best possible program. So, you need to communicate with me, the Assistant Scoutmasters (ASMs), or Troop Committee. We hold ASM meetings once a month to discuss the program and do the "adult" planning necessary to make the "youth" program successful, and we hold committee meetings once a month to which all parents are invited.
Secondly, as an adult in the troop, also recognize that letting the scouts run the troop comes with the price of not having everything run the way we adults would run it. We try to maintain a balance between letting the youth lead and making sure all the scouts have a fun, productive, learning experience.
Thirdly, help out if you can and when you can. I realize we all have busy lives and it is hard to balance your time with so many activities but we are fortunate to have a large number of adults that help run the troop. If you have the time, come out and join us. If you don't, consider becoming a Merit Badge counselor or attending a Committee meeting.
On behalf of Troop 4T2, I would like to thank you for taking the time to learn about us and for those of you with scouts in our troop, thanks for trusting us with this priceless resource.
Yours in Scouting,
Sanjiv Swami
Troop 4T2 Scout Master
Troop 42 Scoutmasters
Dr. Arnold Drucker
1958 – 1970
Roland Grannis
1970 – 1977
John Chiappe
1977 -1980
Noel Yoshiwara
1980 – 1983
Robert Burick
1983 – 1984
Robert Frame
1984 – 1985
Richard Higgens
1985 – 1987
Rick Cooley
1987 – 1989
Wayne Clapper
1989 – 1990
Don Huffman
1990 – 1993
Navi Bahalla
1993 – 1995
Sal Garcia
1995 – 1997
Steve Devere
1997 – 2001
Mark Hanson
2001 – 2003
Walt Worthge
2003 – 2007
Merle Mason
2007 – 2010
Tony Villanueva
2010 – 2013
Bill Graham
2013 – 2017

John Neil
2017 – 2019
Sanjiv Swami
2019 – Current